The Roland HandSonic HPD-15 hand drum includes some tuned percussion instruments. You can edit the pitch of each pad in cents. The pads are grouped into 3 sets of 5, as shown: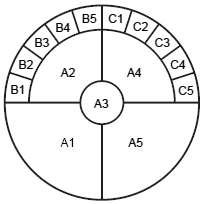 You can edit the pitch of each pad individually, and further adjust the pitch of an entire set (A, B or C). The pad set adjustment is very helpful when creating a patch for any HPD-15 instrument that is voiced for a higher or lower octave.
After several experiments, I finally settled on this arrangement of the Bohlen-Pierce scale notes. It is fully chromatic from D to D'. I didn't include a low Db as it seemed less important than the high D' for modal music.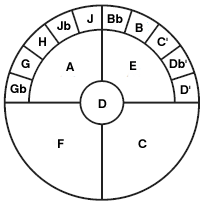 I tuned the notes to the C Lambda scale in just intonation with A=440 Hz (pad A2). The first song recorded with this system was Fuse Blue. The HPD-15 is somewhat buried in the final mix. I've created a separate MP3 file of just the HandSonic tracks so that you can hear what it sounds like:
I'm happy to answer any technical questions from other HandSonic players who are into BP or other alternate scales. The HPD-15 isn't a real sensitive instrument, but its fine tuning capabilities make it a very useful tool for creating a variety of sounds in real time performance.  I advise using a good frequency meter when tuning, as the readout of cents isn't really very accurate.  The tables below contain the fine tuning adjustments that I developed for several of the unit's virtual instrument voices.

C Lambda Just Intonation on Roland Handsonic HPD-15
Midrange Voicings
A49:Gender
T43:SynStrings
S13:Drip
note
frequency
pad
cents
pad
cents
pad
cents
C2
188.57 Hz
A5
-567
A5
-1767
A5
-1768
Db2
203.66 Hz
-433
-1634
-1631
D2
224.49 Hz
A3
-265
A3
-1464
A3
-1464
E2
242.45 Hz
A4
-132
A4
-1332
A4
-1331
F2
264.00 Hz
A1
+16
A1
-1184
A1
-1175
Gb2
288.63 Hz
B1
+170
B1
-1030
B1
-1030
G2
314.29 Hz
B2
+317
B2
-881
B2
-874
H2
339.43 Hz
B3
+451
B3
-748
B3
-744
Jb2
369.60 Hz
B4
+598
B4
-602
B4
-600
J2
404.08 Hz
B5
+753
B5
-448
B5
-436
A3
440.00 Hz
A2
+900
A2
-298
A2
-290
Bb3
475.20 Hz
C1
+1033
C1
-166
C1
-161
B3
523.81 Hz
C2
+1202
C2
+2
C2
+8
C3
565.71 Hz
C3
+1335
C3
+135
C3
+135
Db3
610.97 Hz
C4
+1469
C4
+268
C4
+269
D3
673.47 Hz
C5
+1637
C5
+439
C5
+439
High Voicings
T66:Fantasia
note
frequency
pad
cents
C3
565.71 Hz
A5
-1073
Db3
610.97 Hz
D3
673.47 Hz
A3
-770
E3
727.35 Hz
A4
-638
F3
792.00 Hz
A1
-490
Gb3
865.89 Hz
B1
-335
G3
942.86 Hz
B2
-188
H3
1018.29 Hz
B3
-55
Jb3
1108.80 Hz
B4
+94
J3
1212.24 Hz
B5
+246
A4
1320.00 Hz
A2
+395
Bb4
1425.60 Hz
C1
+530
B4
1571.43 Hz
C2
+705
C4
1697.13 Hz
C3
+828
Db4
1832.91 Hz
C4
+965
D4
2020.41 Hz
C5
+1133
Low Voicings
T34:FunkBass
T33:FingBass
T01:Ac.Piano
note
frequency
pad
cents
pad
cents
pad
cents
C0
20.95 Hz
set
-700
Db0
22.63 Hz
D0
24.94 Hz
-1668
E0
26.94 Hz
-1548
F0
29.33 Hz
-1388
A1
-1388
Gb0
32.07 Hz
-1232
B1
-1232
G0
34.92 Hz
A5
-1086
B2
-1086
H0
37.71 Hz
 A4
-954
B3
-954
Jb0
41.07 Hz
A3
-805
B4
-805
J0
44.90 Hz
A3
-652
B5
-652
A1
48.89 Hz
A1
-506
A2
-506
Bb1
52.80 Hz
B1
-372
C1
-372
B1
58.20 Hz
B2
-202
C2
-202
C1
62.86 Hz
B3
-70
A5,C3
-70
A5
-1767
Db1
67.89 Hz
B4
+63
C4
+63
-1634
D1
74.83 Hz
B5
+232
C5
+232
A3
-1464
E1
80.82 Hz
A2
+365
A3
+365
A4
-1332
F1
88.00 Hz
C1
+512
A4
+512
A1
-1184
Gb1
96.21 Hz
C2
+668
B1
-1030
G1
104.76 Hz
C3
+815
B2
-881
H1
113.14 Hz
C4
+948
B3
-748
Jb1
123.20 Hz
C5
+1096
B4
-602
J1
134.69 Hz
B5
-448
A2
146.67 Hz
A2
-298
Bb2
158.40 Hz
C1
-166
B2
174.60 Hz
C2
+2
C2
188.57 Hz
C3
+135
Db2
203.66 Hz
C4
+268
D2
224.49 Hz
C5
+439